Winny Wear Harnesses and Coats and More!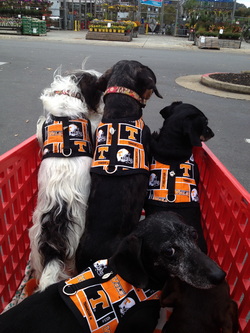 Shopping!
Winny Wear is named after my first Miniature Dachshund, Winny. Winny turned out to be a tweenie rather than a mini! I started making my own harnesses when I was unable to find a harness that fit her without causing discomfort under her "arms". Most harnesses I found in various pet stores caused Winny irritation because they were not designed specifically for a Dachshund's body shape. I originally designed these harnesses to correct those problems for Winny and have since begun making harnesses to fit other Dachshunds and even other breeds, such as Maltese, Poodle, Papillon, Chihuahua, Boston Terrier, and Yorkies, a Great Dane and a few Labs, 2 rabbits and cats too! They are very comfortable and designed to take the pressure of the dogs neck and back. They also keep from choking your dog when you are in a situation where they may be pulling you.They are perfect for breeds with back issues. Of Course, they are very stylish also! Rather than standardized sizing using a small, medium or large template, I custom fit each individual harness to fit your dog perfectly. I personalize these harnesses with your choice of design, as an example I can use fabrics representing various holidays, sports teams or other various interests.
I work with the Little Paws Dachshund Rescue, Almost Home Dachshund Rescue Society and other several Rescue Groups and 20% of each order is donated to help provide for the Rescue's medical needs.NEW ITEMS!
Ruffle Harness
Harness Dresses
Christmas Tree Skirts
​Upcoming Events!
West Virginia Hotdog Festival
July 28, 2018, 9 - 5, Pullman Square, Huntington, WV
East Tennessee Dachshund Races
August 11, 2018, 10 AM - 5 PM,
K9 Center of East Tennessee, 11225 Threadstone Ln, Knoxville, TN 37932
Dog Gone Good Time Festival
,
September 29,10 - 2
,
Walter Elisha Park
345 N White St, Fort Mill, SC 29715

WMDachtoberFest, October 6, 9 am -4:30 pm,
the Great Frederick Fair,Frederick, MD Mountain View Fall Festival
, October 19-20,
8 AM
-
6 PM, 7730 Erwin Hwy,
Chuckey, TN
Annual Bark in the Park
October 27, 11AM -3PM
, Conestee Nature Park, 840 Mauldin Rd, Greenville, SC
---